At a Glance
Aspects Festival runs from Friday 24 September to Sunday 3 October and returns with a blend of live readings, conversations and workshops. Outstanding venues such as Bangor Castle and Bangor Abbey play host to events and the Festival will venture outside to bring creative experiences which maximise the beautiful natural surroundings of locations such as Clandeboye Estate and Belfast Lough.
Festival Highlights
The Festival opens on Friday 24 September with the prolific author and screenwriter Colin Bateman, who will read from his new memoir, Thunder and Lightning. Expect humour, honesty and insight into days of the 60s and 70s. 
On Saturday 25 September, Evelyn Conlon and Éilís Ní Dhuibhne will discuss and read from their most recent highly acclaimed short story publications, Moving About The Place (2021) and Little Red and Other Stories (2020).  
Thursday 30 September, brings together Monica McWilliams and Susan McKay in conversation with Seamus McKee.
On Friday 1 October, Actor and Musician, Richard Clements will for the first time perform a rehearsed reading about his grandfather's war years titled, How to Bury a Dead Mule.
Fergal Keane makes a welcome return on Saturday 2 October, when he will be in conversation with William Crawley, as he talks about his writing, his career and life journey. William will of course open the floor to the all-important audience questions.
A unique Poetry and Paddle-Boarding event on Saturday 2 October, offers a rare chance to get creative while enjoying a beautiful perspective of Bangor from Belfast Lough. The workshop will take place on and off the water and no experience is necessary to take part. 
On Sunday 3 October, join Author, Historic Horticulturalist and Painter, Eoin Lane on a wonderful walk through the stunning Clandeboye Estate, while he reads from his book, Beyond the Horizon. 
Image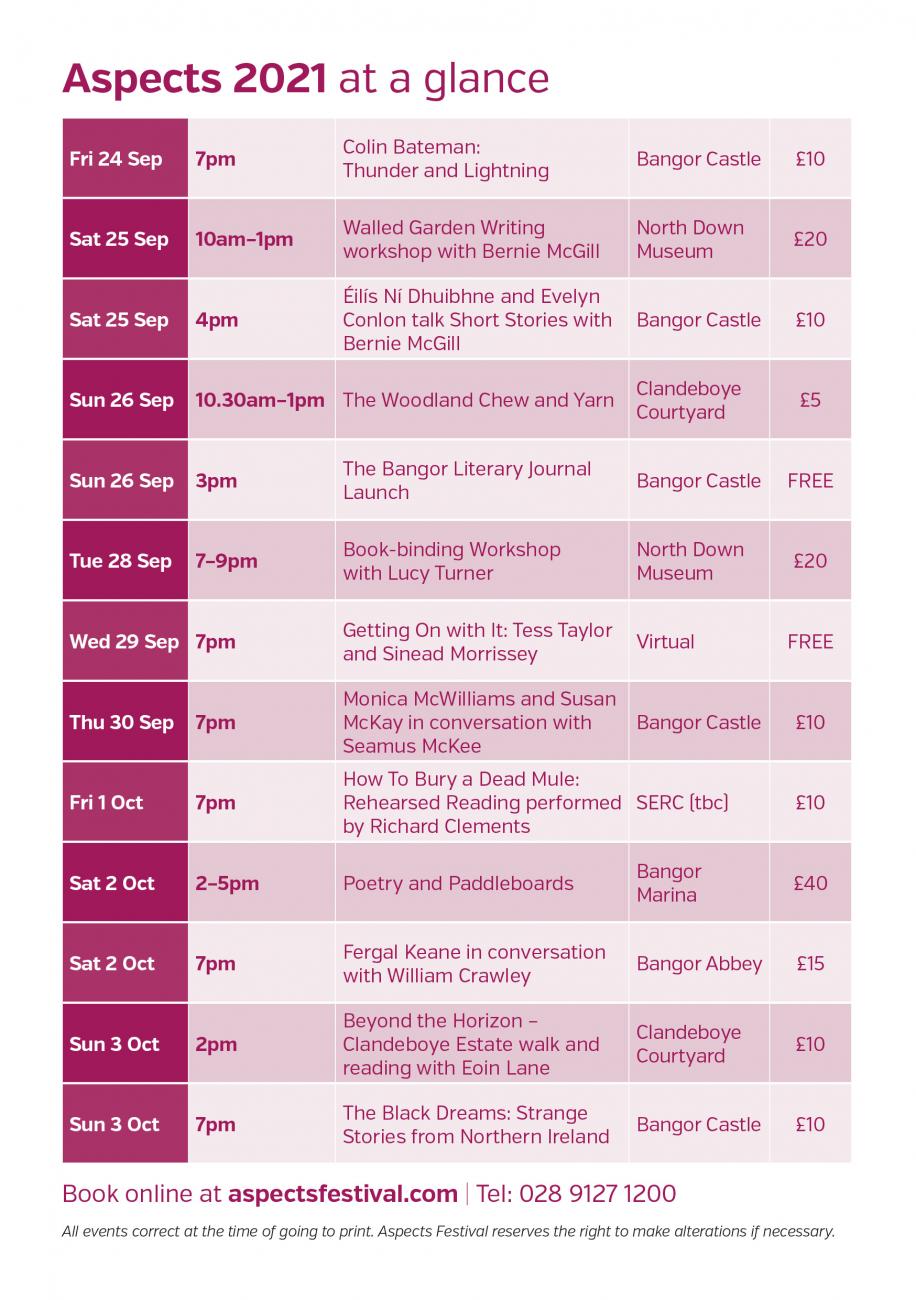 Download the At a Glance Guide

Aspects 2021 A5 flyer_at a glance.pdf
Aspects Festival is on a smaller scale this year, with more limited seat availability. We encourage you to book your tickets early to avoid disappointment and look forward to welcoming you soon.